I'm sorry, do your massively tied up Boobs hurt when you lie on them?
Hows the tickling feel?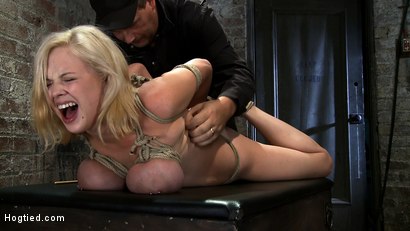 Join Site!
788 Shoots, 145,139 Pictures,
435 Hours of HD Video
4 Updates per week + one bonus shoot a month
One live show per month
Access to member forums
Katie Kox is back and her massive rack is as impressive as ever. This girl was built for bondage, tight inescapable bondage.

After we tie her huge breasts, we still manage to have enough rope to tie it to her ankles. Once we push her to her stomach, we arch the ropes from her breast to her ankles and complete the HOGTIE. Now every time she moves or struggles she can feel the ropes pulling on her sore tits. All her weight is lying on them and she can feel the pain.

So let's make her move, a lot! We cane her feet and she moves. Her breasts are in agony with ever movement, so we figure tickling will just send her over the edge. In this case tickling is the meanest thing we could do to this big tit bitch. Tickling sucks to begin with, add the pressure on her boobs and it's almost unbearable.

Since we're not at unbearable yet, only 'almost', we make it all tighter and suck even more by adjusting the ropes to arch her further up, putting even more pressure on her sore fun sacks. Make her cum over and over makes her happy for a bit, until we stop and all the pain rushes back...